Not Such Good Faith Agreements
Pope Pius XII, left, and his successor, Cardinal Angelo Giuseppe Roncalli, who became John XXIII.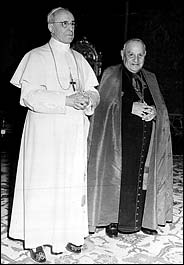 The New York Times > International > Saving Jewish Children, but at What Cost?
Sent to me by J with this message: "oops! they did it again. those crazy catholics!"
Honestly, one of the most fascinating stories I've read in a while. Not surprising--the secrecy--which is probably what makes it all the more fascinating.
The lead: "In October 1946, just a year after the defeat of the Nazis, the Vatican weighed in on one of the most painful episodes of the postwar era: the refusal to allow Jewish children who had been sheltered by Catholics during the war to return to their own families and communities."